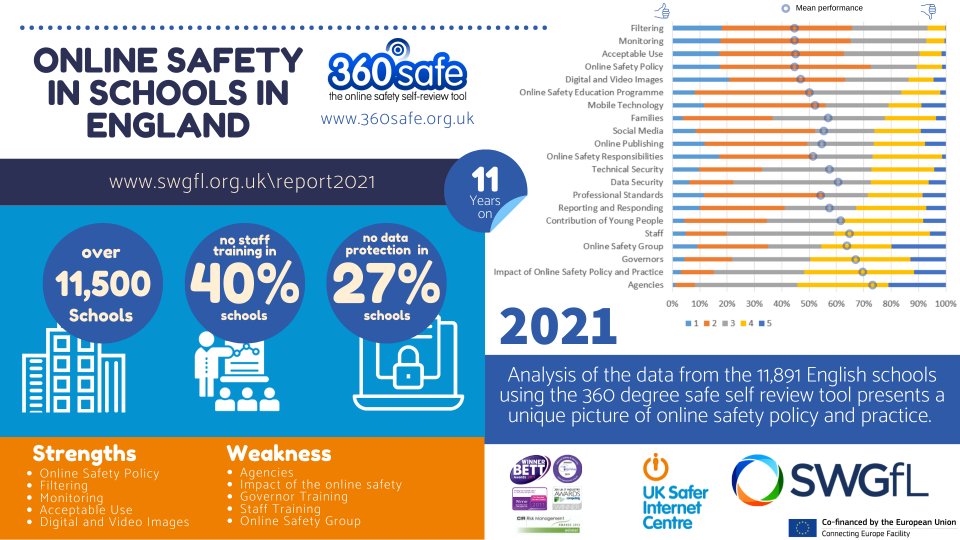 This tenth analysis of the 360 Degree Safe database differs somewhat from previous years in that the structure of the data has been modified and we are avoiding direct comparisons with historical data from the tool. However, we can see a familiar pattern of strengths in areas such as:
Online Safety Policy
Filtering
Monitoring
Acceptable Use
Digital and Video Images
 Which generally relate to having policy or technology in place to tackle specific issues and, as such, do not require long term resource investment.
 Weakness around those aspects that require more resource investment, such as
Data Security
Staff
Impact of Online Safety Policy and Practice
Agencies
All of which require a long term commitment to evaluation and update training, or, in the case of Data Security, an ongoing commitment to data protection compliance.
There are many positives to draw from this analysis – the vast majority of schools have strong policies in place and effective filtering and monitoring, fulfilling their safeguarding duties in these areas and ensuring school have a consistent response to online safeguarding incidents and ensuring students are not exposed to harmful and upsetting content.
However, there are some aspects that have serious cause for concern, with perhaps the most significant worry being that Staff (training) remains a core problem. Without well trained staff we cannot be confident that online safety education will be delivered consistently and effectively, and without knowledgeable scrutiny from governing bodies, we cannot have any assurance that schools are receiving effective challenge on the online safety practices or a clear steer on how they might improve them.
 Moreover, schools who fail to deliver up to date and effective online safeguarding for all training are failing their statutory duties as set out in the Department for Education's Keeping Children Safe in Education safeguarding requirements. The fact that Data Security is also poor shows another area where a lot of schools are failing in regulatory duties. From the analysis we can see that over 40% of schools have no staff training in place and just under 30% have no practice in place around data protection. Effective scrutiny by boards of governors and trustees is crucial in checking that schools are fulfilling their statutory duties but also to ensure that effective practice in taking place so the school is equipped to respond to online safeguarding incidents in a professional and rigorous manner.   Further analysis for this years report shows that schools with deficient professional development will generally have relatively poor overall performance across all aspects of the tool.
 This years report also further includes analysis and conclusions regarding the impact of the last 12 months and the Covid pandemic on schools, supplemented with interviews and information from other sources, highlighting key operational challenges for the education sector during this time.