Schools need to keep children safe, but it can be difficult to know where strengths and weaknesses are. Schools want internet safety advice that is tailored to school issues, and provided by genuine experts.
Schools can pay for e-safety reviews to be performed by organisations, but many are expensive and lack the expertise to really help schools improve.
Our Online Safety Audit / Review is designed specifically for schools,  and is based on many years of working closely with schools and the knowledge of how schools work.
Online Safety and School Improvement
An Online Safety Review takes approximately three hours with a SWGfL Online Safety Consultant with extensive experience of school improvement and provides an objective assessment of the school's overall level of online safeguarding maturity.
This service is available to schools across UK.
What does an Online Safety Audit include?
An Online Safety Audit provides schools with:
A detailed report on each of 28 aspects of online safety
A set of improvement actions for each aspect
A record of discussion and commentary around those actions
Links to online resource and support
A digital resource pack to support those improvements
A summary of strengths and prioritised areas for development
Graphical benchmarking of the schools current level of maturity against other schools, including those within the local authority for which we hold data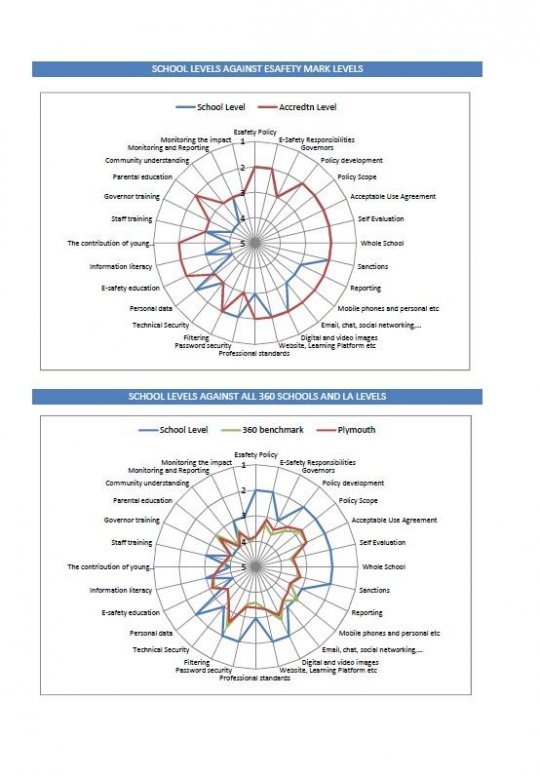 What does a school need to do to prepare for an Online Safety Audit?
In preparation for an Online Safety Audit a school will need :
To familiarise themselves with the SWGfL 360 degree safe online safety criteria (at summary level)
School registration with 360 degree safe online self review tool at www.360safe.org.uk (but not necessarily complete any aspects prior to review)
Gather any supporting documentation as evidence
Involvement of key staff responsible for:

School leadership/management
Child protection/Safeguarding
ICT Subject lead and/or technical