School's can't have help but notice the new and more powerful RM SafetyNet, with features designed specifically for DfE compliance and to make managing pupils and staff easier.
RM SafetyNet has undergone significant development to support schools to comply with the introduction and revision of DfE initiatives (such as Keeping Children Safe in Education), Prevent Duty, and updates to Ofsted's Common Inspection Framework.SWGfL's partner RM has also been busy over the summer break trialling new features and setting out a new development roadmap.
Users of RM SafetyNet will have noticed the transformation of the solution, now featuring a new user interface, reporting dashboard and User Based Filtering module, the development isn't stopping here. So why all the changes and what's next on the Roadmap?
Keeping Children Safe in Schools (KCSiE)
The Department for Education published Keeping Children Safe in Education (KCSiE)last September, introducing new recommendations. This has driven the development of the new RM SafetyNet to provide better reporting, identification, assistance, and management. Paragraph 67 deals specifically with online safety, stating the following:
As schools and colleges increasingly work online it is essential that children are safeguarded from potentially harmful and inappropriate online material. As such governing bodies and proprietors should ensure appropriate filters and appropriate monitoring systems are in place
Talking with schools though, there can often be confusion over the definitions for Filtering and Monitoring; and they are really quite different.. For schools that want to increase online safety for pupils and staff beyond filtering, we also recommend using a monitoring service alongside filtering. Get in touch for details.
So what's new?
User Based Filtering (UBF)
With the focus on individual filtering and reporting set out in KCSiE, UBF allows the creation of different filtering policies for staff and students. While not a new RM SafetyNet feature, UBF is now included as standard within RM SafetyNet Plus for all SWGfL customers.
Web Chat
Stuck and need assistance? Click on the Support icon at the top of any RM SafetyNet screen to access Web Chat. Web Chat initiates a secure connection directly with RM's support team who will be happy to provide assistance with using and managing RM SafetyNet.
Reporting
How many times has RM SafetyNet blocked access to sensitive sites? What are the top 10 sites and searches used within your school? What did a specific user attempt to access at 10:30 last Tuesday morning? RM SafetyNet reporting answers all of these questions delivering professional and effective reports that support online safety decisions and enhance KCSiE compliance.

Click on the Reporting icon at the top of any RM SafetyNet screen to run standard or custom reports.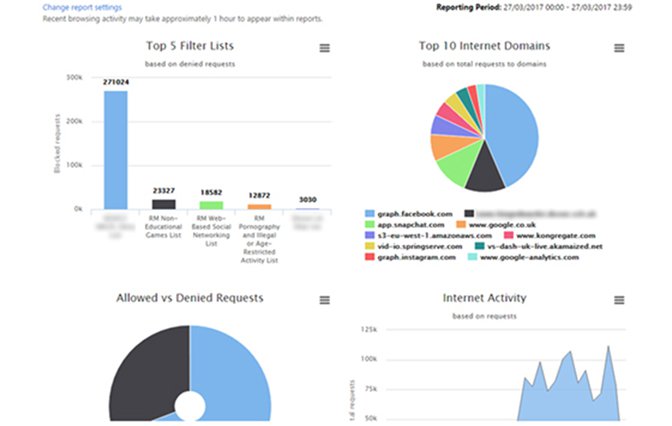 Self-service DNS Management
For schools wanting enhanced control over their DNS configuration, this feature provides flexibility in adopting new or altering current services. RM are happy to continue managing DNS for you but if you prefer a self-service approach, this allows configuration of your own DNS settings directly from your browser.
Demo videos
There are now a number of videos designed to show users how to perform day to day SafetyNet tasks.
What's next on the RM SafetyNet Roadmap?
The following features will be released during 2018:
Transparent User Based Filtering
Building upon the existing transparent filtering feature, BYOD (bring your own device) and non-domain devices will also be filtered by UBF. This enhances the safe browsing experience and also allows reporting to extend to these devices.
Alerting
As part of the SWGfL Service, RM SafetyNet already has unique alerting processes should anyone attempt to access IWF or 'Police assessed list of illegal websites' unlawful content. With the Alerting feature, schools receive an email if and when RM SafetyNet blocks access to a website within a filter list. This means schools can be more proactive and intervene before an online situation becomes more dangerous.
IP Filtering
IP Filtering brings BYOD and other non-standard devices into the school's filtering policy. By setting filtering policies based on IP address & IP range, filtering may be applied to devices such as tablets where login details and operating systems are not easily identifiable.
Custom proxy addresses
This is an easy way to deploy custom filtering policies for users and devices. 4 new proxy addresses will be made available and configured via the RM SafetyNet administration interface. You have full control to modify the filtering policies for these new proxy addresses, giving a simple and easy way of applying different filtering for sets of devices or users.
What's on the Roadmap longer term?
The following feature list represents current development work and features to be introduced beyond the second half of 2018.
Application/Service specific toggle
This presents an easy to manage list of applications and services that may be switched on or off. Set up and allow/deny applications and services easily from this management screen.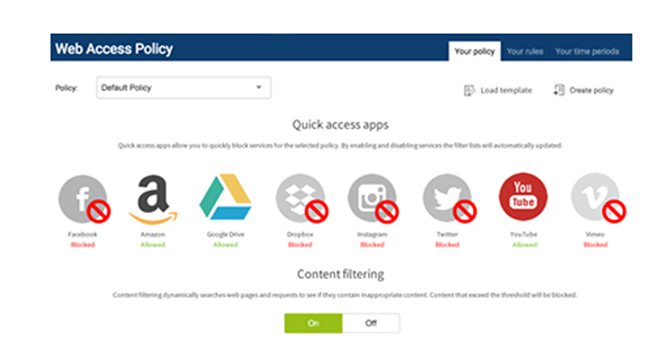 Self-service firewall
Building on the self-service DNS feature, self-service firewall allows Network Managers even more direct control over their network configurations.