Whilst the summer season at SWGfL is quiet for some, the Revenge Porn Helpline has been breaking records – having our busiest period since the service launched in 2015. In August 2019, we reached a record 178 cases. That's almost six individuals contacting us every day, each with their own distressing and invasive experience of intimate image abuse. As you can see from the graph below, this is representative of a continuing trend over recent years, with the helpline receiving more calls every year.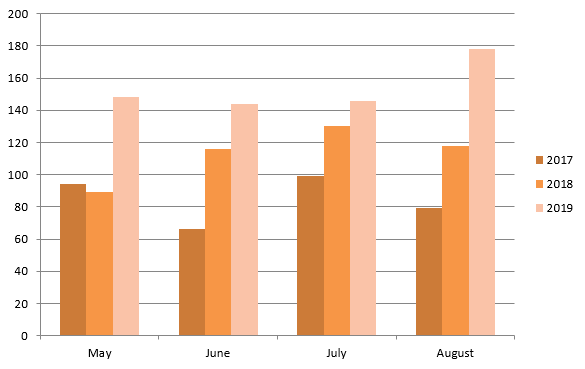 Interestingly, and a little perplexingly, we cannot pinpoint any recent or new trend that has predicated this sudden and significant rise in cases. Last summer, we saw an increase in sextortion cases due to the circulation of an email scam claiming the hackers had acquired intimate and compromising images with accompanying threats to share these. The scammers demanded bitcoin be transferred to their accounts in order for the images to be deleted. For more information and advice on scenarios such as this, Action Fraud have produced some valuable guidance.
It would seem that our busy summer is simply attributable to a natural increase in awareness, thanks in no small part to the helpline achieving a greater presence in the media. In recent months we have well and truly been rushed off our feet with not only cases but also a shower of media requests for news, television and radio. The helpline has featured in a number of publications over the last few months, including several contributions from our helpline Manager, Sophie Mortimer. Coverage has included BBC, Radio 5 Live, The Guardian, Huffington Post, Take a Break and Closer.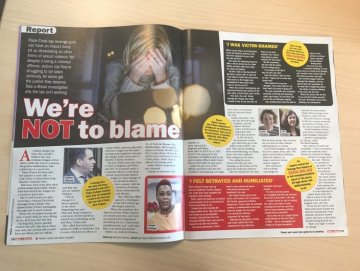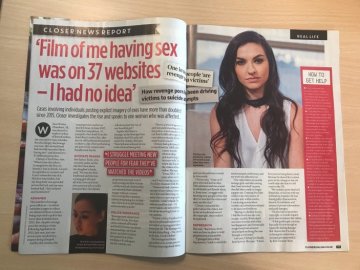 Whilst managing the summer's monster case load, helpline practitioners have also been busy developing a set of new advice guides for university students. Following guidance published by Universities UK, we want to do our part to promote online welfare and safety amongst the UK's booming student population. You can find more information about the online welfare packs for students on the Revenge Porn Helpline website.
Keep up to date with what the helpline is doing via our social media channels. We're on Facebook, Twitter and Instagram.