Computational Thinking can be thought of as a set of creative problem solving skills that we can use in everyday life. These skills include concepts such as logical reasoning, spotting patterns, and breaking things down into steps, and also includes approaches to tasks such as exploring, collaborating and persevering.
These concepts and approaches are already well embedded throughout many of the themes and activities we plan for in the Early Years Foundation Stage (EYFS), and the problem solving nature of the skills links closely with the Characteristics of Effective Learning.
Teaching Computational Thinking skills doesn't require a computer or any technology - in fact, we only need to use the everyday resources we already have around us. 
What is Changing for Early Years Foundation Stage?
With the removal of technology from the new EYFS statutory framework (coming into effect in September 2021), the integration of computational thinking skills is more important now than ever.
Aligning Computational Thinking ensures progression through use of the same vocabulary as colleagues in KS1 and beyond, supporting the 'school readiness' and 'broad range of knowledge and skills' described in the Statutory Framework for EYFS March 2021.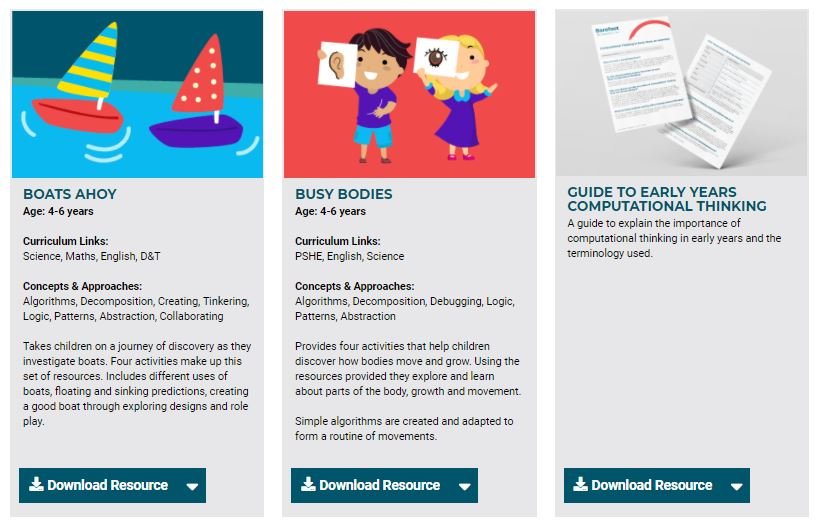 These resources from Barefoot Computing have been designed to show you what Computational Thinking looks like in the EYFS. They include a wide assortment of familiar activities such as water play, outdoor play, role play ideas, games and challenges, showing how you can draw out the Computational Thinking provision in your setting.