5th February: SWGfL and the UK Safer Internet Centre were in Easthouses, Dalkeith marking the biggest Safer Internet Day in Scotland yet.
As part of the Safer Internet Day 2019 celebrations, pupils welcomed the Minister for Childcare and Early Years, Maree Todd, to Newbattle High School on 5th February. Recently opened as a Centre for Digital Excellence, pupils showcased to the Minister their work on online safety.
First stop was the digital signage in the school foyer, which included a series of QR codes. Pupils assisted the Minister to scan each code, using a tablet to watch the short online safety videos they had created. She subsequently addressed a group of pupils, with a lively discussion around the impact of technology on everyone's lives, and the changes that have happened in a relatively short space of time. Visiting a digital literacy class, the Minister received a number of interesting pupil presentations, and participated in a fun digital online safety quiz.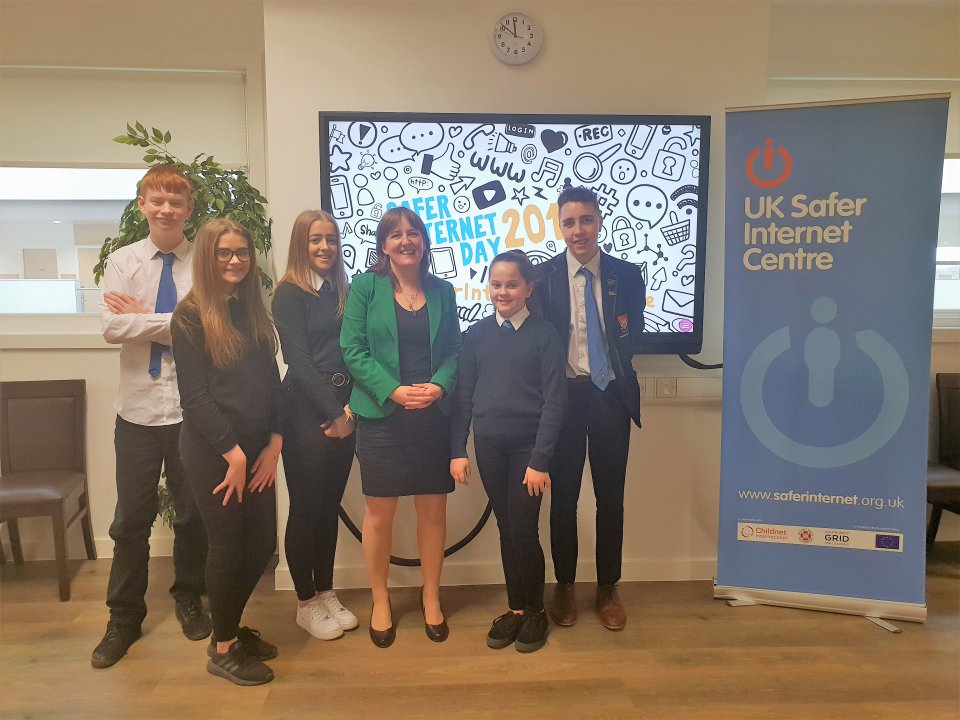 When Scotland's National Action Plan on Internet Safety for Children and Young People was published in April 2017, it contained a government pledge to promote Safer Internet Day across the country. And Scotland has risen to the challenge: in just 2 years, the number of Safer Internet Day supporters has doubled.
The Minister commented:
The internet is becoming increasingly central to our lives and especially the lives of our children and young people. It connects and empowers us, and it is important that we ensure that children and young people are able to enjoy the internet, show resilience and take advantage of the many opportunities it has to offer in a way that is safe and supported.

That is why we are delighted to work with the UK Safer Internet Centre to raise awareness and promote Safer Internet Day in Scotland.

This year's theme looks at understanding how consent works in a digital world and reminds us of the importance of understanding healthy, respectful, consensual and safe relationships and that we all have a responsibility to respect each other's privacy and consent