ProjectEVOLVE, the award-winning digital literacy toolkit has now launched a new report that analyses data and findings from the schools and professionals who use it. This report is an extensive analysis of what the data has seen and aims to understand online safety delivery and assessment within schools, across the UK.
ProjectEVOLVE provides essential support for professionals who want to educate around online development in children and young people. Included within the toolkit are teaching and learning resources (also called aspects) that are tailored to specific needs.
Within ProjectEVOLVE there are eight different strands relating to online safety and digital literacy. Some of these include: Self Image and Identity, Online Relationships and Privacy and Security.
There are also assessments (called Knowledge Maps) that allow professionals to assess knowledge across the toolkit and get insight into where gaps are in their understanding.
Professor Andy Phippen from Bournemouth University conducted the assessment.
What is Included in the ProjectEVOLVE Report?
This analysis is the first of its kind andconsiders the ProjectEVOLVE database from the start of March 2022,drawing from the 6,617 educational establishments and 24,148 individual users who use it. Amongst the many findings, some of the top-level stats include:
Users have viewed aspects 252,680 times
Some schools have viewed resources over 500 times.
83,667 Knowledge Maps have been used to assess and understand student knowledge
The following infographics take you through more top-level stats:
The most significant finding is how much the toolkit is being used by schools and education professionals. From the data gathered, ProjectEVOLVE is unquestionably providing value and importance through its tools and resources! The growth we have seen will give unique knowledge and understanding around how online safety education is being delivered in schools and how these digital competencies are assessed.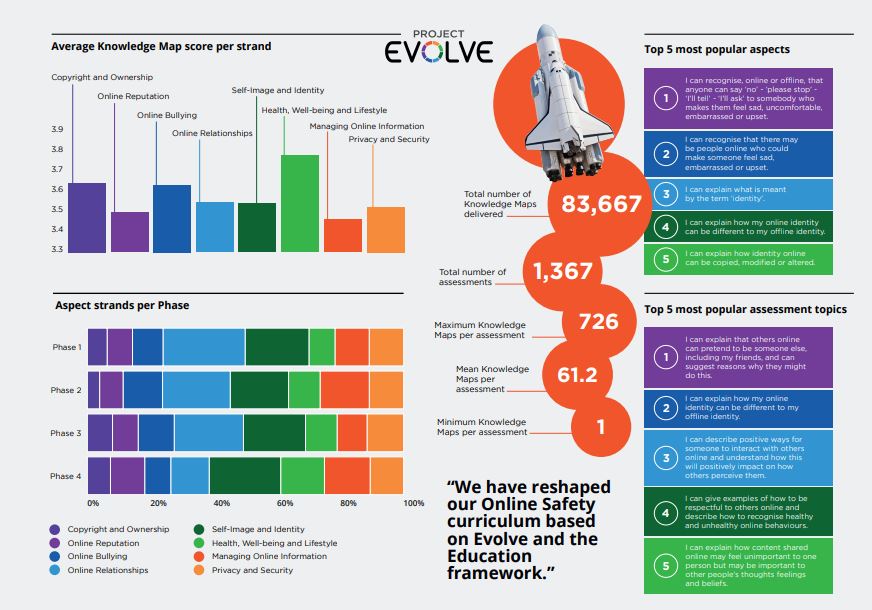 If you have yet to sign up to ProjectEVOLVE, make sure you access its free resources and tools,to help support you in delivering online safety and development education. Join the thousands of other professionals and sign up today!