Children and young people today are using the immense power of digital media to explore, connect, create, and learn in ways never before imagined. With this power, young people have extraordinary opportunities, and yet they face many potential pitfalls.
Meanwhile, schools are dealing with the associated ramifications – for example, cyberbullying, digital cheating, desensitisation and the lack of understanding of permanency and replication. These safety and security concerns underscore the need for children and young people to learn -- and for teachers to teach -- digital literacy and citizenship skills and for schools to support their pupils to act responsibly and to use the internet in a better way.
SWGfL have produced schemes of learning for all year groups, from Foundation Stage to Key Stage 5. These are based on Common Sense Media's FREE Digital Literacy and Citizenship Curriculum, which empowers learners to think critically, behave safely, and participate responsibly in our digital world. These 21st-century skills are essential for children and young people to harness the full potential of technology for learning.
These schemes of learning:
offer a comprehensive yet balanced approach in addressing safety and security concerns, including ethics and behaviour issues, as well as digital literacy skills
provide child-centred, media-rich lesson materials that emphasize skill building, critical thinking, ethical discussion, media creation, and decision making
address the whole community by providing materials to educate parents and families about digital citizenship
provide additional resources and links and suggestions for curriculum opportunities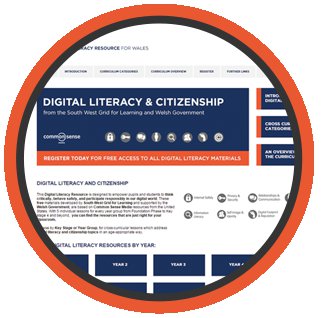 Schools can choose to use the curriculum as a complete package for a year group or key stage, or to choose individual lessons for use across the curriculum.
From Foundation Stage to the end of Key Stage 3 there are five suggested lessons for each year group. At Key Stage 4 and 5 there are 20 lessons, which have not been assigned to individual year groups, allowing, therefore, a greater flexibility of use.
Access the resource here