On Tuesday 11th February, Liverpool Football Club played host to around 450 local school children and SWGfL's UK Safer Internet Centre team for Safer Internet Day.
Before we get into the whirlwind of activities that took place on the day though, it seems remiss not to mention our dedicated team who braved Storm Ciara via planes, trains and automobiles to make sure the day went ahead without a hitch.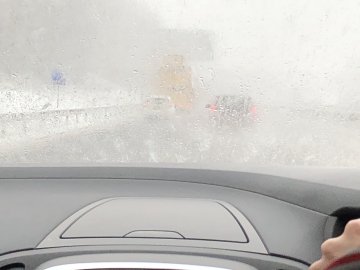 Between them they overcame delayed flights, cancelled trains, a blizzard and in some cases a nasty bout of man-flu; because as they say in show biz, the show must go on!
The day began with a hearty breakfast at around 7am, followed by a quick jaunt through the Liverpool traffic to arrive at Anfield all present and correct by 8am.
As we began preparations for the day ahead, swathes of young people began to filter through the doors. They were greeted by the club mascot and all around bundle of relentless energy, Mighty Red. High fives and selfies all around!
Then, just as proceedings were about to get underway, in walked a bona fide club legend, all time record goal-scorer and general good egg, Ian Rush. This caused quite the ripple among the SWGfL crew, who showing their age, made their way over for a quick selfie. Rumour has it that one member of the team even confided in their hero that all they'd wanted as a youngster was to have legs like him, much to the great man's amusement!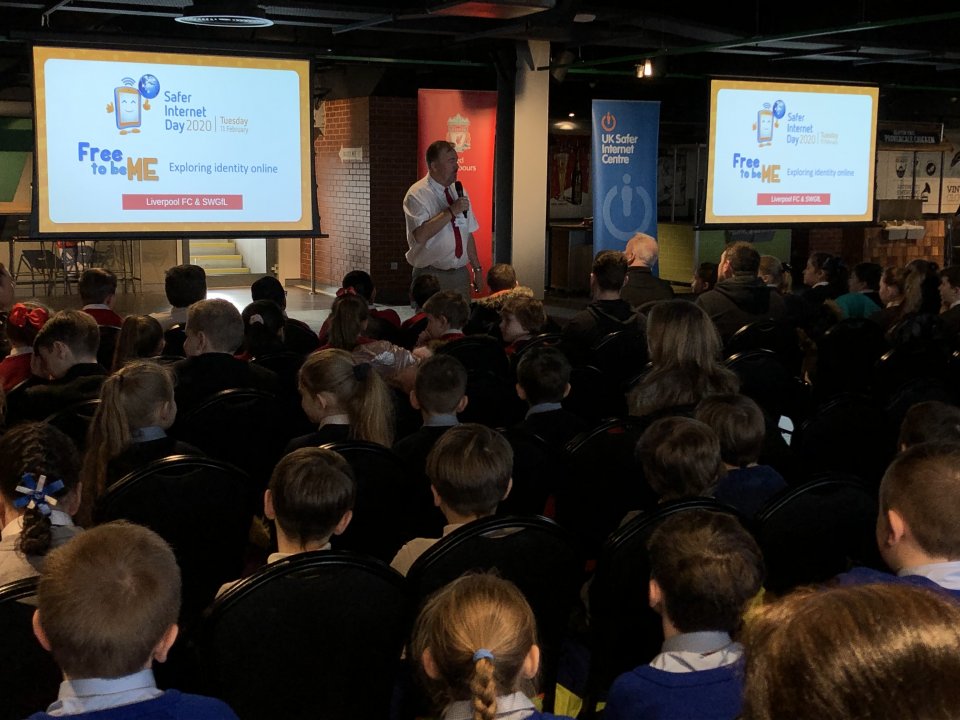 Ken Corish, SWGfL Online Safety Director, then kicked things off with an upbeat online safety assembly based on the Safer Internet Day theme of Online Identity, touching on aspects such as gaming, apps and whether you can tell who you are connecting with online. It was such a privilege to see so many primary school children genuinely excited about the subject and it really brought home the importance of the work we do here at SWGfL and the UK Safer Internet Centre.
After the assembly session, the group were split, with some children gleefully embarking on a special tour of the stadium, others posing for photos with Ian Rush and the rest taking part in workshops before they switched activities. The workshops were delivered by members of the UK Safer Internet Centre team and explored Online Identity and whether we are free to be ourselves online. This prompted some great discussions and genuine insight into the way young people think and behave online. It was really encouraging to know that young people are so well informed and equipped to think critically about what they do online.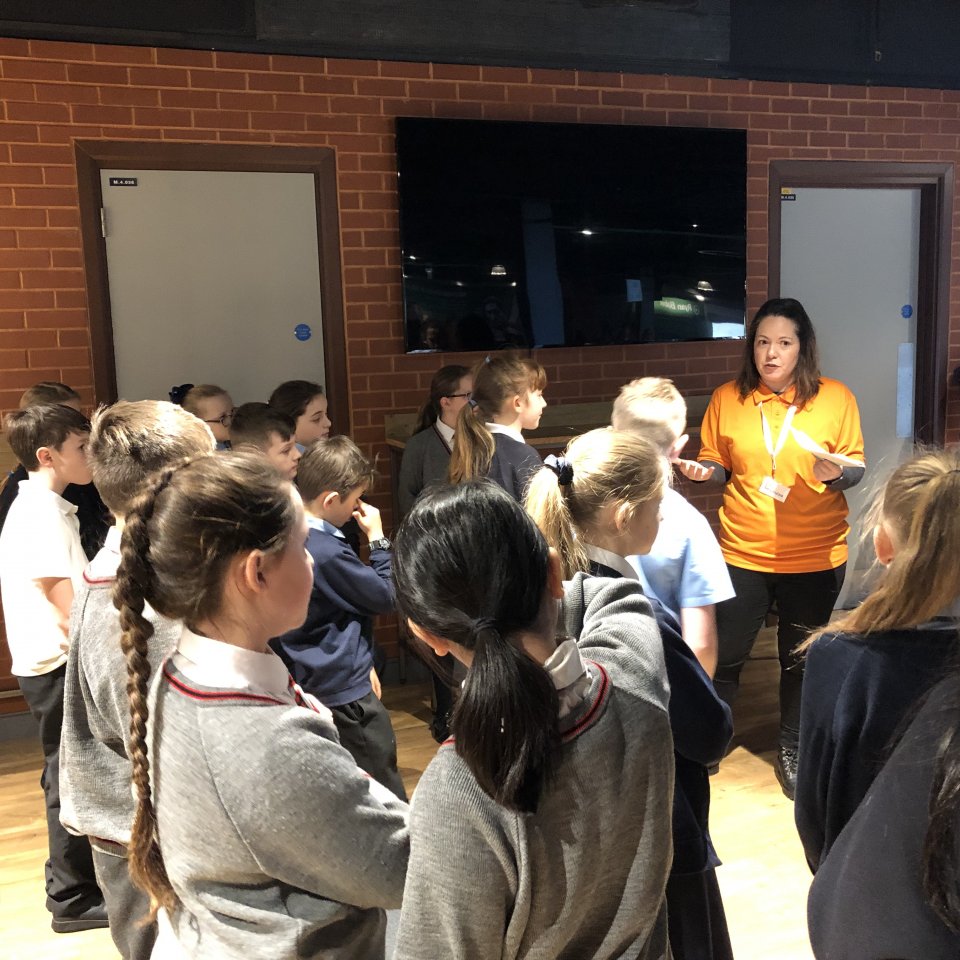 With so many news pieces telling us horror stories about the internet's negative role on young people';s lives, we know it can seem tempting at times to just pull the plug out of the router and make it all go away. Well, that's not a solution. We can't prevent young people from encountering risk online any more than we can offline; nor does it do them any favours to try to do so. What we can do is equip them with the tools that they need to think critically and navigate the online world safely. We do this through educating them about the online world; that's our mantra here at SWGfL, and what we learned from these sessions, is that it works.
As Ian Rush made a retreat and the morning drew to a close, everyone gathered for some much needed replenishment. As we braced ourselves for the afternoon session we were joined by current first team player, and hero of the Croatian national football team, Dejan Lovren. With a fellow Croat in our own team, he was met with a similar level of enthusiasm as he was by the school children.
Following another high energy assembly to kick off the second half, the second wave of young people were treated to a Q&A session with Dejan, who also posed for photos with each of the schools. Following more afternoon activities, the day began to draw to a close, with each child making a pledge to help make the internet a better place for themselves and their friends.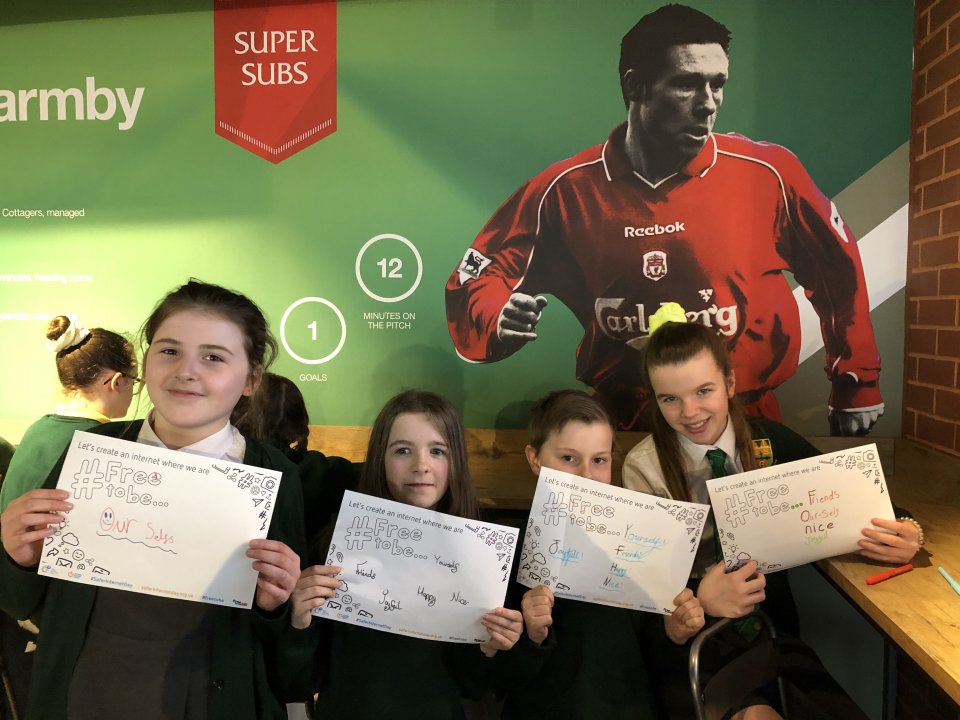 As the schools made their way back from the stadium, our team were treated to a behind the scenes tour of Anfield, visiting the pitch, team dressing rooms, press room and player's tunnel.
It was inspiring to see the young people of Liverpool take part in Safer Internet Day with such energy and enthusiasm. We can't wait to head back to Liverpool in 2021!
Find out more about Safer Internet Day
Book an Online Safety Training Session