In Early 2014 Devonport High School for Boys had a vision to transform its traditional Library into a modern Learning Commons. Over the next year lots of work with students and staff was done to shape the future vision for the Learning Commons.
Ben Forte was appointed as the Director of Learning Commons. Ben began transforming the culture immediately. A Learning Commons is a very different learning environment to a traditional library so expectations had to be carefully thought through.
Expectations
A poster was developed with staff and students and all other posters of rules were removed. When this poster was devised it was important for Ben Forte that the poster was not a list of do's and don'ts and was instead a list of statements that set the scene for the Learning Commons.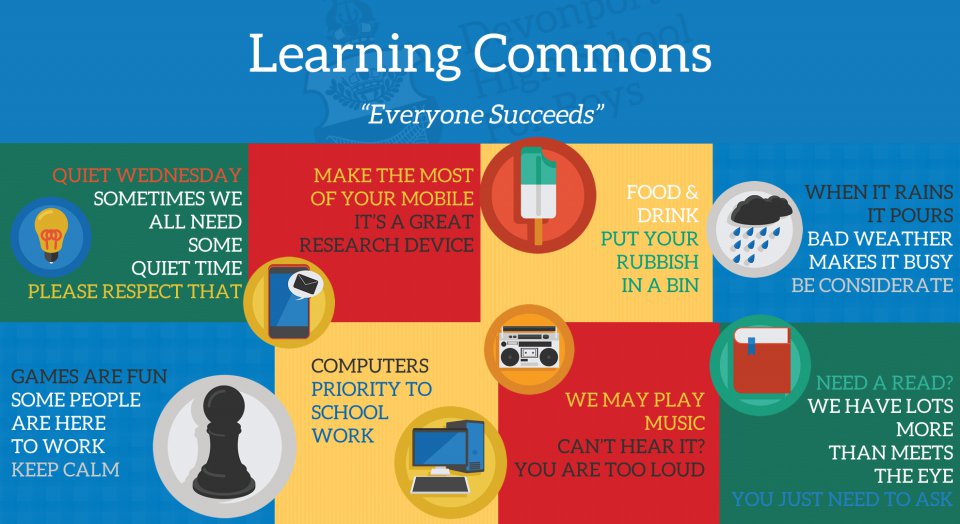 Inspiration
A Learning Commons Planning Committee was formed. The committee then sought out inspiring companies and working environments. Students were lucky enough to be invited to London to visit Google HQ and Innocent Smoothies. Both companies are well known for having different working environments and being very high achieving businesses. Aspects that were common in both Google and Innocents were personal spaces, communal spaces, clean & natural designs and most importantly adaptable spaces.
Plans began
After the inspiring visits it was time to knuckle down and create an inspiring Learning Commons. There were lots of ideas for furniture and quotes started to be sought after. The company that stood out from the crowd was Spaceoasis. Devonport chose them due to the fact they were more than just a furniture manufacturer. They were thinking about learning and how to inspire productivity by creating education specific furniture such as tables with LearningSurface (a write on wipeable surface). Spaceoasis helped to design 3D models of the new Learning Commons with all the furniture in to help students visualise and further inspire the design process.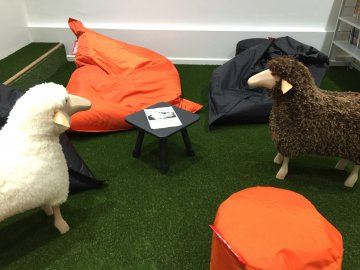 The next part of the process was to analyse the resources that the Learning Commons would provide. The current Library contained around 15,000 books. There were many books that were out of date and no longer used so an audit of every book was carried out in order to make sure there was enough room in the Learning Commons to create the flexible learning space that was required but at the same time still provide all the necessary equipment. Mobile technology will be key to the success of the Learning Commons so a reliable Internet connection and stable Wifi infrastructure would be essential. Devonport's Internet connection, provided by SWGfL, delivers safety, security, reliability and quality; the foundation on which to build their vision for technology.
The Learning Commons
The Learning Commons opened for staff and students in September 2015. The downstairs of the Learning Commons features an artificial grass lawn with bean bags and 'Baa Stools' (Sheep) surrounded by a book shelf hedge, to create a comfortable and relaxing environment to socialise and read. All existing desktop computers were removed and replaced with Google Chromebooks which are available from the Chromebook Lending Library. Devonport High School for Boys also was the creator of the world famous Thinkspace so it only seemed right to create an all new Thinkspace within the Learning Commons, giving students a space to learn to code and be inspired.
Upstairs in the Learning Commons all of the tables are manufactured with Spaceoasis's LearningSurface. Whiteboard pens are available and can be used at any time, allowing students to collaboratively work on projects on their tables. The tables in the main area are the Bite table. Using the Bite table staff & students are able to rearrange the room into unlimited formations creating a truly flexible learning space. Upstairs also features 7 study booths. The study booths come in all different shapes and sizes; small meeting room size for 6-8 people with presentation facilities, medium size seating up to 4 and small allowing just 2 people.
Observations
It is still early days for the Learning Commons but we are already seeing the positive impact it is having on inspiring students to work, learn and play. We are already seeing an increase in the number of books that are being read both in the space and at home. At break and lunchtimes it is amazing to see students able to do homework, eat lunch and socialise with their friends all at the same time.
Staff are using the space in ways they would never have been able to do before. It is possible to have some students working together on the grass, some are collaborating writing on tables and others are practicing their presentations in the learning booths.
What next..
The Learning Commons will never stop developing. Events will soon start featuring Google Expeditions, Open Mic Sessions, Thinkspace Projects, Mini Lectures and Teaching & Learning Conferences.
Ben Forte would recommend all schools work with their school community to develop a learning space that is relaxing and where every aspect of the space has been carefully considered.