There are two sides to every coin, and maybe even more if you look long enough.  You are the same but a different you when you're at dinner with your Grandma than if you are out with your friends on Friday night and online is just the same.
For me, the #dollychallenge made this really visual and showed how people express their identity online, depending on the platform. To show you what I mean (and for a lol), here are some of the best examples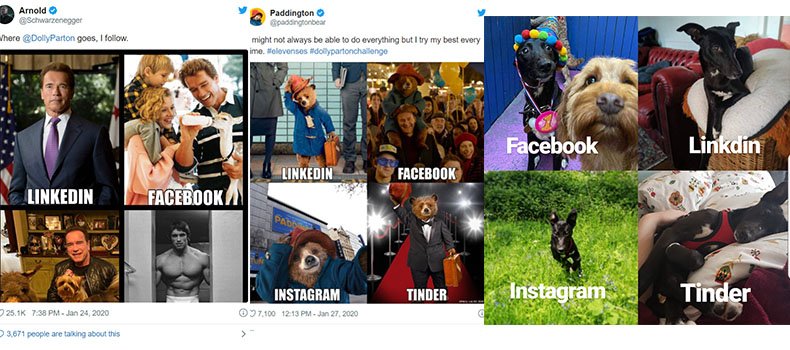 (yes the last one is my dog, and no that's not weird)
It's a no brainer that you may express different parts of yourself on different platforms, just like you would offline.
In our teenage years we build foundations for who we are. Validation and recognition for our achievements help shape the paths we want to follow and develop who we are. For me, it might have been simple things like how I conducted my friendships, the trials and tribulations, live learning about compassion and empathy. I learnt I was a good listener- now I work on a helpline.
Today that validation and self-learning may come from something less tangible; Instagram likes, follows or mentions. Young people and teenagers are spending hours curating their online identity, building Instagram feeds and creating 'engaging' content. If for example the most liked post you have is one in your bikini posing with a tortoise, your thoughts might be, 'people like me better in a bikini', or 'maybe I should work in wildlife conservation'.  On the other side from that, you might upload a video of you playing the guitar for the first time (something you're too shy to do IRL) and get loads of positive feedback, maybe inspiring you to do more and learn.
The internet, and social media in particular, is playing a big part in raising our children and helping them become who they are, for good and bad.
There are so many ways to explore who you are online, and find hobbies and interests you never even knew you needed.  10 years ago for a man to wear makeup, he might have been on stage or in drag. Now some of the top beauty vloggers/makeup artists in the world are men and rock that look daily.  The internet is connecting people and ideas at a fast rate, knocking down barriers and allowing the space to safely #freetobe.
What we sometimes need to be mindful of is this 'openness and acceptance' online does not always resonate offline. It's the same with social mobility in our society. I might be on the bus sitting next to someone who has over500k followers on Instagram, but what does that translate to IRL? Sure they might get free products to promote with #ad on their socials, but they're still on the same bus as me, going to their 9-5 so they can feed their family.
It feeds into the old safety message of 'not everyone is who they say they are online'.
If you look at my Insta feed it's all nature and beautiful places- I spend the majority of my time in an office, looking out the window to a car park. If you watch my stories however, this is truer to life, no makeup, dog cuddles and food! But both of those versions of Carmel, are me.
For all of us, and particularly young people the internet can offer a whole range of different hats to try on. For this Safer Internet day, we are focusing on the opportunities that the internet can give young people. Use the hashtag #freetobe to join in and share with us, how the internet helps enable you to be YOU.