Twitter continues to release new safety features. Designed to give users more control on what they see, creating two new Mute features. Mute words allows users to mute specific words, phrases, usernames, emoji's and hashtags. Once you have created your mute list they will no longer appear in your notifications.
At the moment this only works with notifications. Twitter is currently working on new safety features for the Home Timeline.
As well as the ability to Mute words, you also now have the ability to mute a conversation.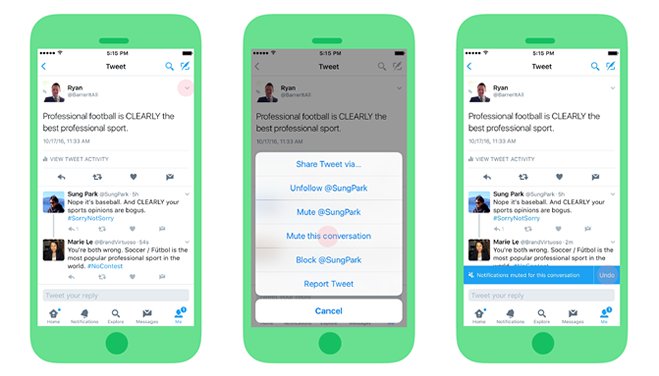 When you do this you no longer get notifications when others Reply, Retweet, Quote Tweet or @mention a Tweet. But this only mutes the notification. The conversation will still be available on your timeline. No one else will know that you have used the new feature it is a private function. You can jump back into the conversation at anytime.
Twitter have also updated their reporting process. It now includes a hateful conduct report option. Bystanders as well as the people effected by the content are also able to report. This bystanders reporting system is designed to develop a supportive culture for those effected by hate.