Safer Internet Day is always a special day, and this year our Online Safety Consultants Andy Wood and Alan Earl, were delighted to be welcomed back to Everton and Liverpool Football Clubs to help teach young people about the power of image. In this blog, Andy and Alan talk to us about what happened on the day in Liverpool.

We also recorded this podcast at our event in London, which gives you a taste of what happened on the day.
Andy Wood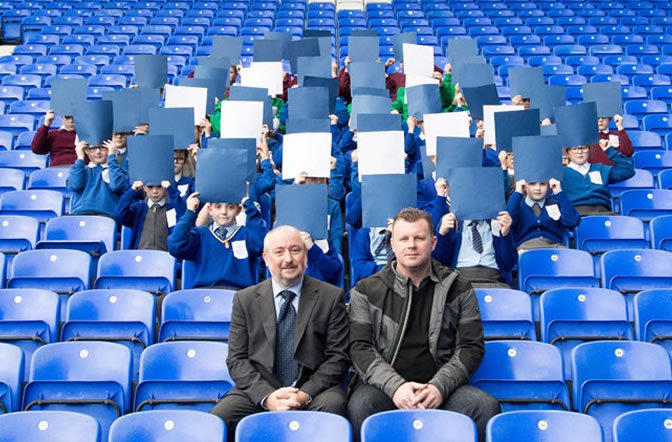 Since SID2016, I have gotten to know Everton Football Club and their fantastic safeguarding team really well, and we were confident that we could plan an exciting morning for local primary school pupils.
On the day, six local schools each sent 10 pupils to the Alex Young suite at Goodison Park. I was concerned at first that the club were only working with schools with blue uniforms, but this proved to be an unfounded suspicion!
In typical primary school fashion, we sat the children on the floor, in neat and tidy rows in front of the big drop down screen. I then started showing the pupils my avatar and we talked about safe ways to use images in their online life.
The presentation available to download in the education packs proved very popular and got everybody talking about images. I tried to think of the last image I had used, and had to admit that I couldn't recall what it was - but that I suspected it was food related (I later discovered that I was right!). Not surprisingly, for most of the young people their most recent image was either of themselves or their friends.
All of the pupils were great at recognising the risks of sharing personal information by accident in their images, and we all agreed that we could look after ourselves and our friends by thinking about the images we shared. I did take a picture of all of the children to share on Twitter, but they were very quick to realise that I hadn't asked them properly if that was going to be ok. They then watched as I deleted the image - in front of a witness.
We then began to develop ideas around emojis, and the pupils all mixed together and discussed how to make the internet a better place. With the help of the Everton in the Community team, we wrote these down on big emojis, and some of the boys and girls read out their brilliant ideas to everyone.
Everybody completed their emojis just in time, before former Everton player Graham Stuart arrived. Graham was more than happy to chat to everyone, pose for photos and autograph the emojis.
Then came the highlight of the day, a visit to the pitch and the stands to make a giant blue and white smiley face. Graham even gave us a tour of the changing rooms on the way to the tunnel and dugouts, which was an added bonus!
Each pupil was given an Everton goodie bag as a thank you for coming along, which included a brilliant booklet of activities to support Safer Internet Day, which will be sent to more than 70 schools.
Alan Earl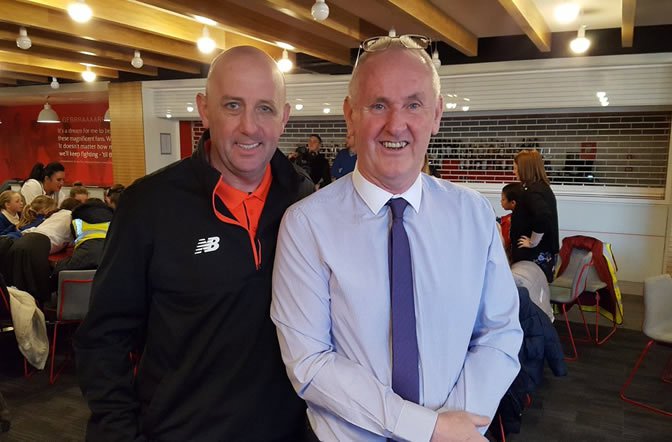 I had the pleasure of returning to Liverpool Football Club (LFC) again for this year's Safer Internet Day, following the success of last year's event when 21 local schools and over 200 children headed to the club on the day.
This year's event was even bigger with more than 350 children from 25 Liverpool primary schools charging into the Centennial Stand to learn about 'being the change' and playing their part to make the internet a better place.
After an assembly, former Liverpool player Gary McAllister spoke to children about his footballing career and answered their questions, before talking to them about online safety and how his own children use the internet.
The children then moved into another room, where they took part in some exercises and puzzles relating to the theme of the day, 'the power of image', and designed their own emojis to demonstrate how we communicate through images. The children were incredibly focussed on the tasks and it was great to see them really engaging with the subject.
The noise and energy levels then went up another notch when Big Red, the Liverpool Football Club mascot walked in. A lot of very happy children then had their photographs taken with Gary and Big Red.
It was fantastic to be a part of the day and great to see so many young people leaving Anfield enthused with memories of a great morning and an understanding of how to keep their images safe online.
All in all, it was a fantastic day and a huge thank you must go to Everton Football Club, Liverpool Football Club and UKSIC for making it all happen.
Roll on SID2018!