Wow….we have been busy here at Barefoot HQ recently! Lots of exciting things have been happening so an update is most definitely due. Here's a handy summary of what we have been up to:
3000th workshop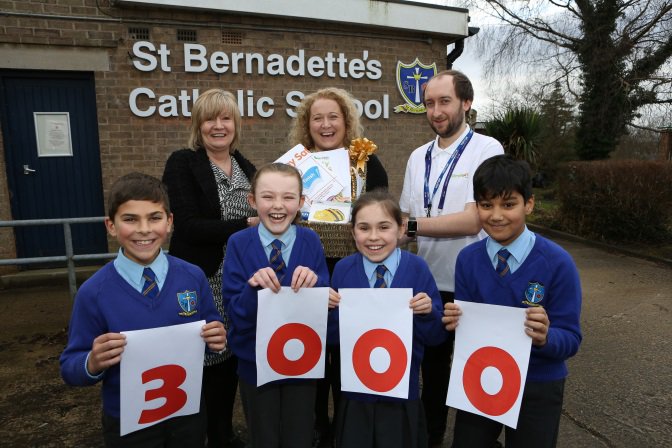 The team recently celebrated reaching a fantastic milestone – we delivered our 3,000th workshop! David Clingain, one of our amazing BT volunteers, delivered the workshop at St Bernadette's Catholic Primary School in Lancaster. BT's Primary Education Lead, Karen Hayton, was in attendance and presented the school with a Barefoot hamper:
Safety Snakes went crazy!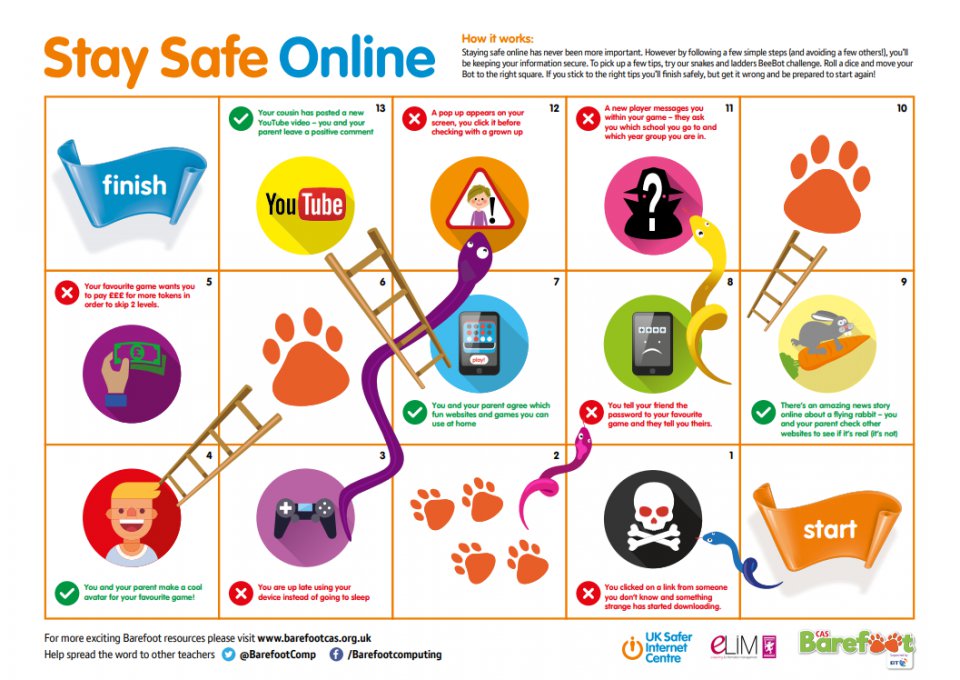 If you were hiding under a rock for most of February, you would have missed Safer Internet Day on the 6th. And with it, you would have missed our fantastic new resource – Safety Snakes! Combining programming and online safety, this tailor made BeeBot resource, complete with a snakes and ladders style BeeBot mat, has been hugely popular. This was an excellent collaboration between Barefoot and the UK Safer Internet Centre (the guys behind Safer Internet Day). You can check it out here: https://www.barefootcomputing.org/resources/safety-snakes
Launch of online workshops
We want to make Barefoot accessible to all – and that means even the one teacher primary schools in the far reaching Scottish islands! To reach such schools, we can now offer online workshops, where we beam a member of our team into your classroom from our office in Exeter. We can also offer this style of delivery for Welsh language workshops. These sessions are being very well received:
Thank you so much for the workshop last night. All of our staff are very excited to be trying out the activities. The workshop was very clear and made it much easier to understand computational thinking. Sophie you were a fantastic presenter and everyone commented on how well you presented the information.

Dunscore Primary School, Dumfries
I was impressed by the use of the remote training and it raised the profile of computing. The business Skype was easy to use for a beginner. I found it hugely helpful and grateful to get on site rather than us all travelling an hour away.

Canonbie Primary School, Dumfries and Galloway
A shiny new Barefoot!
We can't say too much on this right now, but we are super excited about the Autumn term and launching a brand new look for Barefoot, on a brand new website! A lot of work is going on behind the scenes right now, there will be lots of new material and features on the new site, so stay tuned to Barefoot Computing to keep up to date.
How can I get involved?
The best way to find out about Barefoot is through one of our free in-school workshops – essentially an opportunity to 'have a play' with the Barefoot resources, guided by one of our expert volunteers.
Our resources are all designed to be cross-curricular and fit in with other subjects within the primary curriculum. A lot of the resources are 'unplugged' activities and demonstrate how computing can be taught without the need for computers!
The workshop is interactive, teachers will be asked to get involved with lots of the unplugged activities and should come away realising that teaching computing is actually really fun (and not scary)!
Our workshops are:
60-90 minutes long
Delivered as after-school sessions or as part of Inset training
Delivered by local volunteers who are passionate about Computing in education
Highly interactive and full of activities, demonstrating the Barefoot resources
All teachers attending will receive a free Barefoot teacher pack
All teaching staff (often TAs too!) are encouraged to attend
Completely free!
To request one of our free workshops, or to find out more, visit the Barefoot Computing page.