As another school year goes past, we looked back on what changes had come about over the last year and how teachers throughout the UK responded to another difficult year in times of COVID. It was clear from 2020 that online safety had become a new priority for the UK and from what we saw throughout 2021, it seemed as though schools continued to spread awareness of this important topic to their students.
This became overwhelmingly apparent as our digital toolkit ProjectEVOLVE amassed an incredible amount of school support, with thousands of teachers throughout the UK signing up to get the latest educational guidance around online development for children and young people.
What Does the Data Show?
How many?
Since the free registration launched in Autumn last year, we have seen over 4200 organisations sign up and almost 15,000 users actively accessing the material. If we break it down even further, that's roughly over 1,200 new user accounts signing up each month. To put that into perspective, currently, 1/10 schools in the UK are currently using ProjectEVOLVE!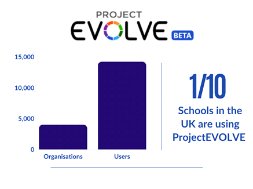 What?
The table below indicates which strands schools are using the most and there seems to be a heavy bias towards the more social and emotional focused strands; those that explore relationships; bullying; self image and how we assimilate and share information. This could also indicate that those curriculum leads in subjects like PHSE, SRE or pastoral leads are finding value in those resources to support their schemes of work. Whilst more technology-led strands like Privacy, Security, Copyright and Ownership are being accessed too, they may also be being used to support Computing, Technology, Literacy and Humanities. Many schools have adopted all strands and are teaching as a discrete Digital Literacy or Online Safety schemes of work.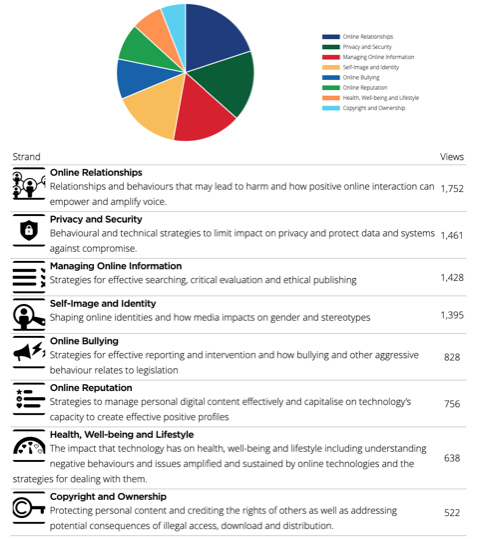 Where?
The data analytics suggest that some areas of the country are really invested in the resource to support their curriculum although overall there is a broad spread across the UK. The top users seem to be in areas where we have a good degree of evangelism around the project. (see table)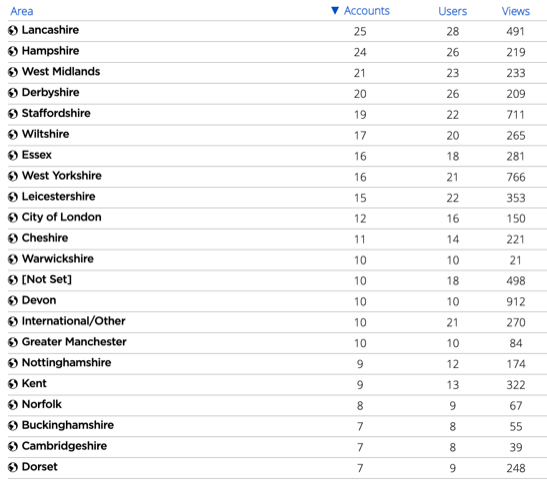 Who
ProjectEVOLVE early adopters have been predominantly Primary schools. KS3 in secondaries seem to be using some strands to support their schemes of work but less with older age groups. We would like to encourage those groups (particularly FE) to explore those more sophisticated resources as they are shaped to directly support the broader societal, ethical and legislative challenges those particular age-ranges may face in their transition to the workplace of higher education.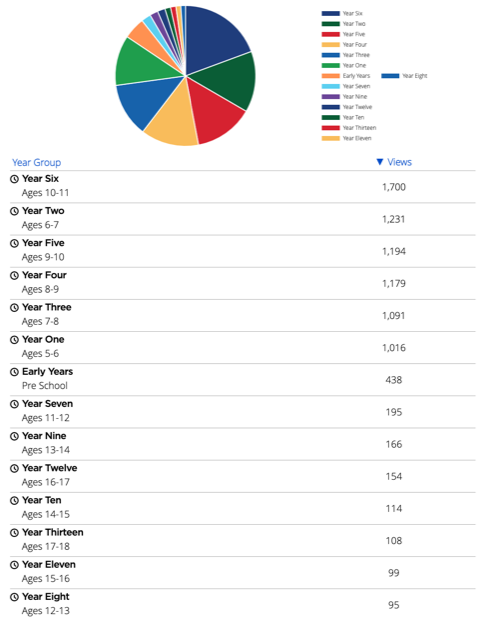 What Do the Professionals Think?
As part of our work, we are always looking to hear the feedback around the toolkit and how we can better it. Before the launch of the knowledge map tool, we piloted the new features with a group of professionals to see what they thought. As well as this, we actively open our channels to hear what others have to say. Take a look below:
Planning for September
With the launch of the new knowledge map features, professionals can now plan ahead for September to see how they can incorporate it into the new school year.
We have worked hard to create what we think is a unique component of ProjectEVOLVE; the Knowledge Map. These are concept cartoons for every single statement in the "Education for a Connected World" framework, created by what we think is the world's first concept cartoon generator. Each response is mapped to one of the Burch Competencies and can be used as a guided session in class or independently online. The results provide a map of what children know; don't know; where there are misconceptions or even inaccurate assumptions.
The knowledge maps are unique in their deployment and design and are there to assist educators in deciding which strands are most relevant for the pupils or students sat in front of them. This makes a scheme of work more relevant and reduces teacher workload through automated planning. They can also be used to measure impact after a unit of work has been taught.
Resources and knowledge maps have been designed to stimulate meaningful and relevant dialogue around challenges each age group may have to deal with in their online lives. This open dialogue reduces generic assumptions we make as educators and works towards more meaningful and positive outcomes for children and young people.
These features will be available at the end of August 2021 ready for educators to explore and to inform planning for the new school year.